Latest posts by Mitch Cole
(see all)
This week, I'm taking you into the colourful and emotionally damaged life of our very own Elena Jane Goulding. What a year it's been for this one. Thank God she survived the Apopcalypse.
Background History: 
Our girl Goulding grew up in rural Herefordshire with an exposure to pop and folk music which had an undeniable influence on her early recordings pre-2010. She gigged and recorded for years before signing to Polydor after opting out of her final year at University following an interest in electronic music and complex production as well as the advice of music agents. With estranged family and boyfriend issues every step of the way, Ellie is always ready with an emotionally distressing lyric to tug on our heartstrings. She once dubbed herself "captain emo" which was an under-appreciated pop moment.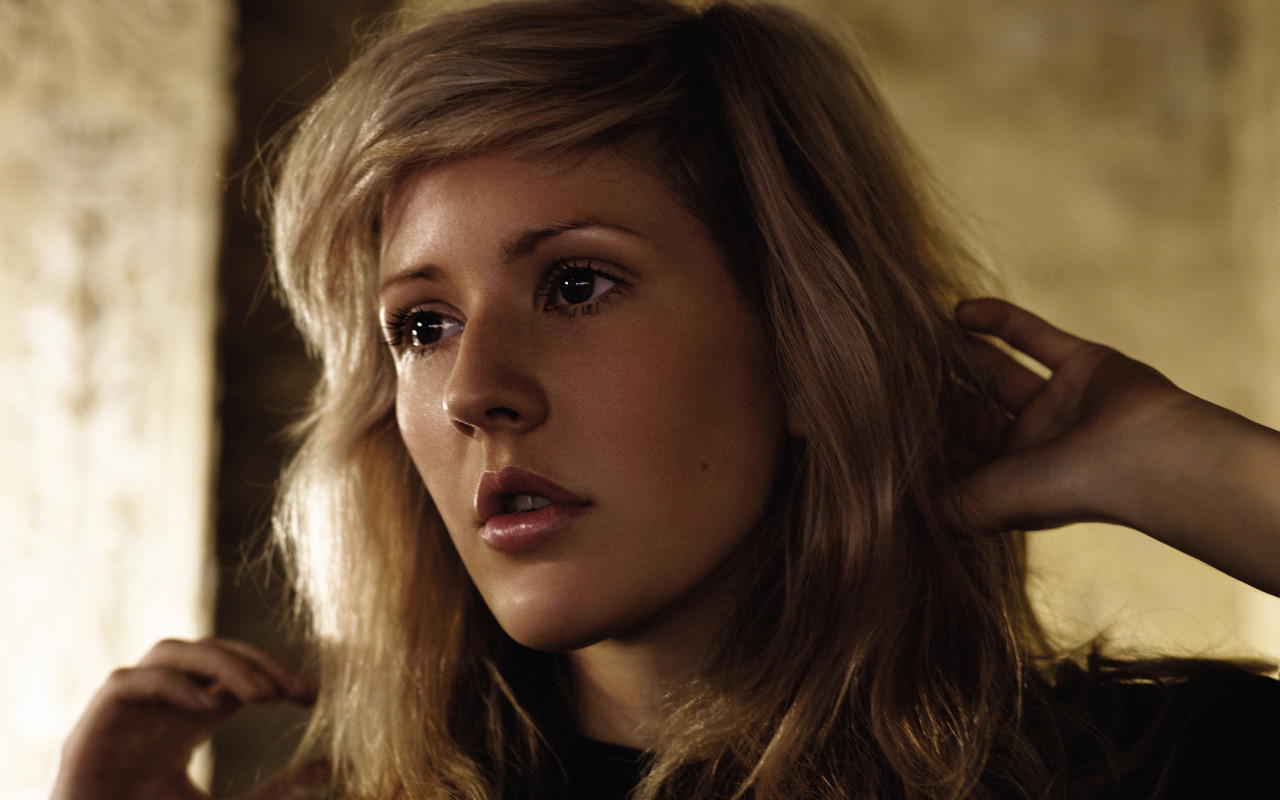 Artist Profile: 
Due to her new interest in electro infused melodies, Ellie re-recorded a handful of demos and penned new songs for her debut album. After winning the Critics Choice and Brit Awards, Lights was a strong and accomplished effort, entering the charts at #1 and offering up "Starry Eyed" as the soundtrack to the year. Further, technically better and less accessible, singles were released but failed to chart quite as impressively whilst her first UK tour sold out and was praised by fans and critics alike. The electronic influences spurred on an energetic and impressive live show, one which did not sacrifice longevity in favour or mindless "humble" rambling.
Halcyon, released October last year, showcased an even darker and more emotive side to the star with unrelenting songs of heartbreak and hopelessness, highlighted with dark, brooding electronic production and an almost tribal like quality to many of the songs. It reached #2 in the charts, with 10% fewer sales than her debut but critics praising her natural progression as an artist. Unfortunately, whilst the correct singles were chosen, their chart success was limited even with an ITV advert tie in undone by her staggering lack of promotion. Goulding's personality and "proper" telephone voice are rather beige, making awkward interviews numbing to watch, and having released an album filled with so much raw power and emotion, this lack of media training does not come across as naive and quaint as it has previously; it is moreso a thorn in the side of an otherwise wonderful artist.
2013 & Her Survival:
So what's happened in 2013 for this lucky lady? Well, she collaborated with Scottish deity Calvin Harris on their club banger "I Need Your Love" which pretty much everyone adored and ended up being bought by 1 million Americans.  She bagged herself a slot supporting Bruno Mars during his worldwide tour. America fell in love with our Ellie and wanted to steal her away from us but she sort of stayed loyal to her home country and promised to come back for some tours and new music. She's been romantically linked to Jeremy Irvine, Ed Sheeran and the blonde child from One Direction. Swings and roundabouts guys. Oh, and she re-released Halcyon. Buckle up, you're in for a long and bumpy ride. I'm serious about this one.
Halcyon Days promised further musical maturation from Goulding and that turned out to wholesomely true – I'm just not sure that it's the right kind of maturation. Every part of me wants to love this album and, to an extent, I do. There's a few too many home truths to face up to before you can really understand and appreciate the new songs. Choosing to consciously ignore my article on loving music without reason in favour of offering you a fuller, more realistic piece, it's important to contextualise this re-release.
During a recent Maida Vale Live Lounge interview, Goulding openly stated that Halcyon didn't succeed in the ways everyone thought it would; an indication that her re-release wasn't driven by passion but by figures and reception, the "cheap" notion of success. The artwork is a poor man's attempt at re-colouring the previous cover. New photoshoots continually surfaced but instead of a featuring an unfamiliar photo, Goulding's team opted for a garish recycled version of the October image. I get the whole "adding colour to a black and white cover indicating change and happiness" thing which is a supposed theme of Halcyon Days but there was speculation that this or this may have been the new cover – far superior I think you'll agree.
With ten new tracks added on to the already hearty Halcyon, and equipped with music videos, this "new" album plays for a staggering two hours. I was happy to dish out £10 for 32 items although I am normally hesitant regarding re-releases: true fans have already spent money on (the better) half of this album. When will artists hold off for a bit and release a new album altogether rather than a renewed and recycled, half finished cash cow? The new songs are technically fully formed but remain worlds away from their predecessors with topics touching on one night stands and ethereal sexual encounters rather than unrequited love and death by water. Different strokes for different blokes.
"Burn", the first single lifted from Halcyon Days, gave Ellie her first UK number one: a rather mindless, chart friendly, club banger originally co-written by Goulding for Leona Lewis. It was an accurate introduction to the re-release, filled with flashy hooks, massive production and the occasional flourish of colour and genius. Whilst Halcyon was nearly entirely written by Gouldo and her writing partner, the newer songs incorporate influences from much further afield, Nate Ruess from fun. and "American Girl" Bonnie Mckee to name drop a few. Their additions are obvious as Ellie's original vision and sound feel rather diluted but still packed with a familiar personality. Several tracks from Halcyon Days are re-imagined covers: Alt-J's "Tessellate", Midnight Star's "Midas Touch" and The Waterboy's "How Long Will I Love You" soon to be released to coincide with Richard Curtis' vanilla film "About Time".
Ellie's electro-infused re-release is full of diverse production but it's exactly this which is partly to blame for drawing attention away from the inner workings of each song. Having co-produced most of the original Halcyon, the album's magic really lies in Goulding's borderline amateur but dreamy production of her personal accounts – being shrouded in the work of such reputable and concrete producers means the songs lose too much of their raw (perhaps slightly unintentional) honesty. Ellie's musical direction has changed and it means the songs work in different ways, something which many fans (myself included) are struggling to adapt to.
Madeon's "Stay Awake" is riddled with angry, gnarly synth along with drum & bass influences that put a real strain on Goulding's voice as it desperately attempts to be heard over the noise. DJ Fresh's "Flashlight" somehow manages to be simultaneously overproduced and underwhelming whilst confusing listeners regarding its subject and topic. There are, of course, songs which slip easily through the net of strange production: "Hearts Without Chains" is just as at home on the original album due to its honest and frank production, emotional lyrics and gritty vocals. It's the kind of song that harbours the subtle experimentation of Halcyon rather than the obvious and dominant clatter of its re-release.
I've purposely been pretty ruthless during this article. I am a huge Ellie Goulding fan and, to me, her music isn't instantly obvious in its quality. There's something so gratifying in better understanding her songs after each listen which I've noticed less of when attempting to fall in love with Halcyon Days. She's been clear that her love of electronic music shines on these tracks and I wholeheartedly agree: perhaps she has sacrificed some token emotion in favour of an approachable, more accessible sound. This re-release feels less concise and sure of itself than her previous work: the songs themselves aren't "bad" by any stretch of the imagination, they're just a strange kind of different to what we know, love and expect.
Controversial, then, to say that we're happy she's thriving in 2013 after such a mixed review of Halcyon Days but that's where faith comes in. America and success has changed her but it's been a big year for Goulding, one full of new memories, influences and inspirations. She is capable of making wonderful music, some of which genuinely does show on Halcyon Days (arguably in patches), and artists are rarely going to stick to an original formula, regardless of its success rate or quality. Just look at Madonna; released sheer treasure for years and then shat out MDNA. I am in no way likening Ellie's music to Madge's, just the aspect of music that will never be linear or simple.
So, let's raise a glass to Ellie Goulding in 2013. Some really good bits, some not so good bits and lots of weird bits in between – a bit like a Matrix film. Halcyon Days is solid album, mainly down to its impressively cohesive first half, but Goulding has proven herself as an artist who's in this game for long run. Here's hoping album #3 is pure pop Gould. Sorry.