Latest posts by Jack Wardlaw
(see all)
So, the Eurovision Song Contest has come and gone for another year. There were some great acts, some awful acts and some barking mad acts, and for those of you who missed most of the show, after getting absolutely shit-faced on shots as you played a Eurovision drinking game (which I most certainly did – my favourite rule being "drink every time the presenters make an awkward joke), here is a quick round-up of some of the good, the bad and the bonkers of Eurovision 2014's fashion.
THE GOOD
Ruth Lorenzo – Spain, Dancing in the Rain
Who doesn't love a romantic power-ballad set to the sound of rain drops, with a few dramatic hair flicks and some ludicrous back-bends-while-carrying-the-biggest-note-of-the-night-s. Ex-X-factor contestant Ruth gave us all this and so much more and she worked her lungs in one of the most powerful performances of the night, and the beautiful song was perfectly complimented by her choice of outfit. The wet hair was a no-brainer and added atmosphere to the song while the embellished nude gown gave enough glamour to ensure that all eyes were on her as she flexed her lungs of steel. And to think, Louis Walsh once said she wasn't a great singer.
2. Molly Smitten-Downes – United Kingdom, Children of the Universe
I've not put Molly here just to be mindlessly patriotic, I genuinely think her outfit was one of the most interesting of the night. Over the last couple of weeks, we've got to see Molly's quirky personality and this gold feathered dress reflected this appropriately. The henna tattoos, gladiator sandals and gold headpiece really shouldn't work on anyone, but Molly's amazing energy and fearlessness carries them off really well, with the shining gold being a fitting ending to a night of celebration (even if we didn't do nearly as well as we should have).
3. Conchita Wurst – Austria, Rise Like a Phoenix
Let's get the elephant in the room out of the way first. The beard. Yes, it's unusual and challenging when you first see a glamorous, elegant woman sporting a beard, but in this day and age, who really cares? Frankly, I'm jealous that she can grow such an amazing beard, and men everywhere should be jealous of how perfectly maintained it is. Facial hair aside, Conchita's look was easily the most enchanting of the evening: The make-up was absolutely flawless, particularly those eyelashes which were easily the most perfect I have ever seen; the hair was immaculately styled in lose waves and was on its own more interesting than San Morino's entire act; finally the dress – beautifully embroidered and figure-hugging, it was the perfectly understated dress that let her song do all the talking. It's douze points from us Conchita.
THE BAD
4. The Tolmachevy Sisters – Russia, Shine
Believe it or not, this is not just me being biased against Russia for everything that's been going on recently. Yes, the sisters did have an uphill battle the minute they entered the contest because who in their right mind would vote for Russia because of Putin? But actually, their song was mediocre and their outfits were forgettable, they were just masses of nude shapelessness. What really got to me though was that weird hair twist thing they did. Why would anyone want their hair tangled with someone else's? It wasn't even particularly artistic or innovative, it was just a bit crap.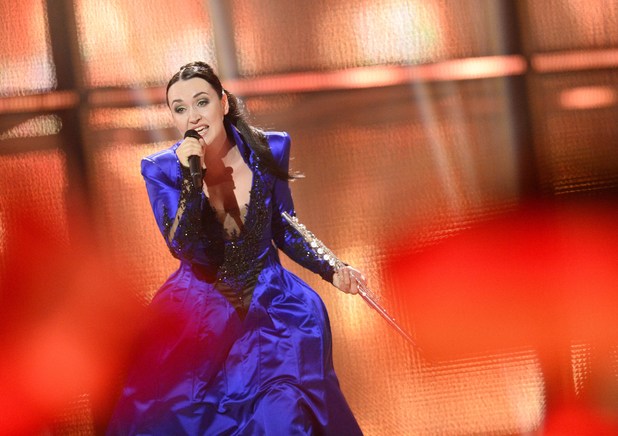 5. Tinkara Kovač – Slovenia, Round and Round
One word. Shoulder-pads. Alongside some questionable high-notes, Slovenia took us back to the 80's with their questionable use of massive shoulders and exaggerated hips. The colour wasn't terrible, but the whole thing was the wrong-side of couture – ridiculous shapes and tacky jewellery. Sorry Tinkara, but you could have worn something much more flattering.
6. Emma – Italy, La Mia Città 
Imagine if Liberace had dressed Julius Caesar. That's basically what Emma was wearing. The ridiculously camp gold crown and white chiffon cape were tasteful in comparison to the bejewelled mini-dress she was sporting. In fact, the dress was so mini that I think I actually saw her Città at one point – not cool Italy. Even the multitude of backing musicians also forced to wear those stupid gold crowns couldn't make the look any more credible; safe to say I don't think we'll be seeing them in H&M anytime soon (unless Anna Della Russo is allowed back for another collaboration).
THE BONKERS
7. Pollapönk – Iceland, No Prejudice
Now guys, lovely song and a great message that should probably have done better than it did, but it's hard to take the song seriously when you look like the Teletubbies. The thing is, that is legitimately how the group dress both on an off stage – they will all wear a suit, a tracksuit or jeans or something, but each dress top-to-toe in one colour, so as lovely as the song's message was, they were never going to be given that much credibility. Actually, it probably says something about Eurovision when a bearded drag-queen is given more credibility that five guys in suits. But either way, the point still stands.
8. Twin Twin – France, Moustache
What… the bloody hell… was that? They looked like Urban Outfitter's rejected job applicants. It was just a mess from start to finish. THAT QUIFF? ARE YOU KIDDING ME? There were grown men in tight, tiny shorts, face paints and god knows what else. Yeah it may have been fun and unique, but there was a reason it was unique – no one else would have been either stupid, brave or ignorant enough to attempt it. Sorry France, but even two point was two points too many for you.
9. Donatan & Cleo – Poland, My Slowianie 
Not a terrible song, the kind that everyone secretly wanted to twerk to, especially when she commanded us all to "shake what your mama gave you" – the sacred words every sassy gay longs to hear. The reason Poland was so bonkers is because of THOSE milkmaids. Big bobbed women churning butter and scrubbing clothes wearing dangerously low cut tops – that was a cheap shot but clearly was effective. I have to wonder though, wasn't it a bit of a misfire on Poland's point? Seeing as about 90% of the Eurovision audience is gay men, wasn't it s bit odd to try and use sexy women? My guess is that if they had done the same thing but had huge muscular guys churning butter, they would have got the highest score in Eurovision history.
If there's one thing Eurovision shows us every year, it is that literally anything is possible. Anyone can perform and there is absolutely no way of knowing who will win going into the competition, it is as wide the cheesy grins that are plastered to the faces of the hosts every year, but that's what makes Eurovision so much fun. Even when so many people say it is rubbish, it still pulled in half of the total U.K. television audience at its peak on Saturday night as we all tuned in to see what manner of fantastically bizarre entertainments we would be met with. Congratulations to Conchita, who as well as looking absolutely fabulous all night, including when she cried – a skill that only a select few including Cheryl Cole can master – also represented the views of millions when she summed up the night, dedicating it to "anyone who believes in a world of peace and freedom". Cheers to another bumper year of Eurovision!